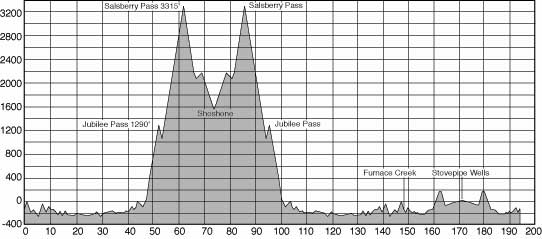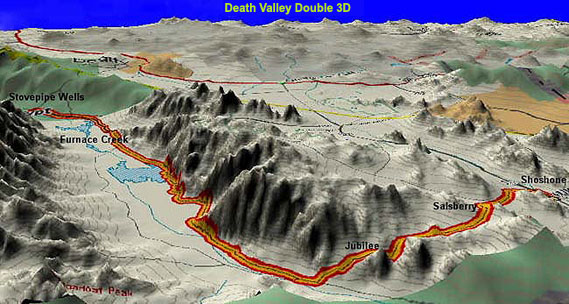 Courtesy of AdventureCorps
The two major climbs exiting Death Valley on the southern end
Stage Four: Furnace Creek to Shoshone, 73.6 miles. Elevation Gain: 6744'.
South through Death Valley, the alluvial fans are invisible in the dark, but you climb and descend several thousand feet through Badwater (El -282') to the base of the exit passes (Mountain Section Six). The first climb starts at mile 300 and climbs about 1000 feet in five miles to Jubilee (El 1285'). A one-mile descent leads to the next climb, about 2300 feet in 9.5 miles to Salsberry (El 3315'). Each climb has sustained sections of 5-5% grade and usually poor road surface; in fact, all of the road is terrible after you pass Badwater.
I am using the course description from the 508 website because the Spring Death Valley Double Century or Southern Route is mainly on the 508 route. On the double when we reach Shoshone we turn around and head back to Furnace Creek.
Hydration
Death Valley got it's name because it is a place were living things go, get dehydrated, and die. Death Valley has the driest climate on this planet. Most of the time there is practically no moisture in the air at all. This means every breath goes in dry and comes out wet. When you are sleeping in Death Valley your body processes about a pint of water an hour by breathing. This means at the end of 8 hours sleep you have consumed about 1 gallon of water. You must hydrate and replace your electrolytes even when you are not cycling. Therefore we suggest you
bring a Camelbak!
Double Century Checkpoint Locations: 17.7mi (Badwater), 45.4mi (Ashford Mill), 57.6mi (Water Only - on Salsberry Pass), 74.3 (Shoshone), 103.2 (Ashford Mill), 130.9 (Badwater), 148.6 (Furnace Creek), and 171.5 (Stove Pipe Wells).
A question came up about how much fluids I will consume on the double century. This is a supported double but even though I have the luxury of support I usually will skip three of the aid stations.
Mile 0-------2 full bottles with Infinit Nutrition from the start at Furnace Creek
Mile 17.7---Pass on Badwater
Mile 45.5---2 full bottles at Ashford Mills
Mile 57.6---pass on water stop
Mile 74.3---2 full bottles in Shoshone
Mile 103.2--2 full bottles in Asford Mills
Mile 130.9--2 full bottles at Badwater
Mile 148.6--pass Furnace Creek
Mile 171.5--2 full bottles Stove Pipe Wells
Mile 196--- A big ass Coke!
So it looks like 12 24oz bottles. That's the plan anyway. But I've done this event a few times and many times I arrive at the aid station and still have fluids left from the last station.
BUT the big news is the weather 50% chance of rain and snow is forecasted for Death Valley on Saturday. For people that live outside of southern California and around the world many of you can't understand why rain is such a big deal for us. You have to understand that we have a very moderate climate year round. We also don't go out and buy all the rain gear needed to ride in the rain i.e. fenders, clothing, and such. We can always wait a day and the rain will pass. Typically it doesn't rain one drop from April -- November. So for us rain is a BIG deal.
Weather forecasts are provided below.
See here
here
and and the wildflower update can be found here